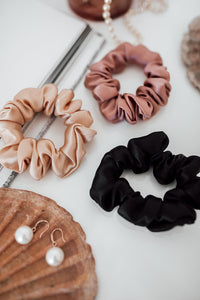 Better together - perfect chance to get three M size scrunchies in the beautiful colours of cappuccino beige, powder rose & black night for a bundle price!
Protect and cherish your hair. Silky smooth is not just an expression – that can be your curls and locks. 
Beauty experts claim  - the luxurious fabric can help keep your hair soft, moisturised, and tangle-free. The luxurious 100% natural silk fabric not only looks and feels grand, but is also beneficial to your hair, keeping it soft, moisturised and free from tangles. It won't break your hair, but help it grow shinier and healthier. 
In this set you will get three M size natural silk scrunchies 
in a nice gift box!
M size - width 2,5 cm 
Natural silk is a delicate fabric - the better you care for it, the better it will care for you. 
Use only in clean, dry hair.
Do not use together with dry shampoo or other strong hair products, it may ruin the fabric. Also - we recommend not using together with wool scarves and hats.
Hand wash is the best solution for natural silk - submerge it in warm water (up to 30 degrees), add gentle detergent or soap, soak for 30 min, then rinse with cool water, do not wring, but gently press the water out of your item.
Lay the item flat in its natural shape.

Iron on low temperature set to the "steam" setting or just hover over the item with steam.